RECEPTION
| | | | |
| --- | --- | --- | --- |
| TEACHER | NO. CHILDREN | KEY STAGE | AGE GROUP |
| | 30 | Foundation | 4-5yrs |
Reception Class Share and Shine
Reception Class Poetry Day
RSE - Relationship and Sex Education
Parent Information – RWI Phonics
Support for Phonics and Reading
Tasks to be Completed at Home (Remote Learning)
If you have any safeguarding concerns during the school closure period with regard online learning please contact the Designated Safeguarding Lead (Mrs Hadfield) at school on 0161 643 3271 or via email office@st-johnfisher.co.uk
In the event of a school closure this section will be used to assign class work.
Latest News
Reception
Hannah has been hosting Laudato SI dance week in St. John Fisher RC Primary School. This morning Reception Class went for their session with the theme 'care for our common home, looking after the world around us'.

A wonderful first Computing afternoon with our brand new Reception Class. Learning Computing rules and identifying the HOME button On the iPad.

Today Reception Class have drawn a spider complete with a spider web. We then took a photo and added a wonderful spider web background. A big well done children.

The children learnt about the artist Wassily Kandinski and recreated his Concentric Circles piece of art. Reception Class were also learning about bees.

Reception Class have been learning about the life cycle of a butterfly. The children listened to the story of The Hungry Caterpillar and used the AR app, My Caterpillar. Reception Class were also introduced to our resident robots - Beebot.

Reception have been learning about Lent, Holy week and Easter. Today we re-enacted the Last Supper and had the bread rolls that we made yesterday and juice.

The children in Clitherow house enjoyed wearing their own clothes, chocolate biscuits and an extra playtime to celebrate their Feast Day.

Some of the children in reception class built a church using the bricks. They used the new little figures as people in and going to church as well as singing the hymns.

Today we listened to the story of the Little Red Hen and then made Bread like she did.

Reception Class have discussed what reminds them of Easter. The children have created their own Easter scene.

Today we enjoyed our Design and Technology super learning day. We designed and made Troll puppets, masks and paper flowers and even made a troll form playdough.

Reception enjoyed wearing their PJs for world book day and sharing their favourite story book with each other.

Today as part of Forest School we looked for signs of spring. On the way back to class we visited the Prayer Garden where we displayed some of our Lenten Promises and decorated the garden with purple ribbons.

We have been exploring our Easter Garden and our new RE corner.

Today we learnt about Fair Trade and then went to a Fair Trade sale.

Reception have learnt that everyone needs a friend and we are all friends. We are all connected.

The children watched a wonderful production this morning called 'The street where I live'.

Reception had great fun playing with the gloop this morning (cornflour and water).

Reception enjoyed a maths morning full of lots of different activities. Dinosaurs and brick models using 3D shapes, Dinosaur10 teeth necklaces, sorting coins and The Cake Shop buying cakes with coins.

Just look at our dinosaur pictures!

The children learnt lots of different ways they can walk in the footsteps of Jesus

We went to Forest School in the snow and had a great time.
Further Articles »
Reception Class finding mini beasts in the outdoor area
Chinese New Year
Reception Class spent this week finding out about Chinese New Year.
2023 is the lunar year of the rabbit and the children discovered that some of them were born in the lunar year of the dog and some were born in the lunar year of the rooster.
The children decorated the classroom with the things that they made including Chinese lanterns, pictures, writing, masks and table decorations.
On Thursday the children enjoyed a Chinese New Year party celebration before performing a dragon dance complete with band all around the school.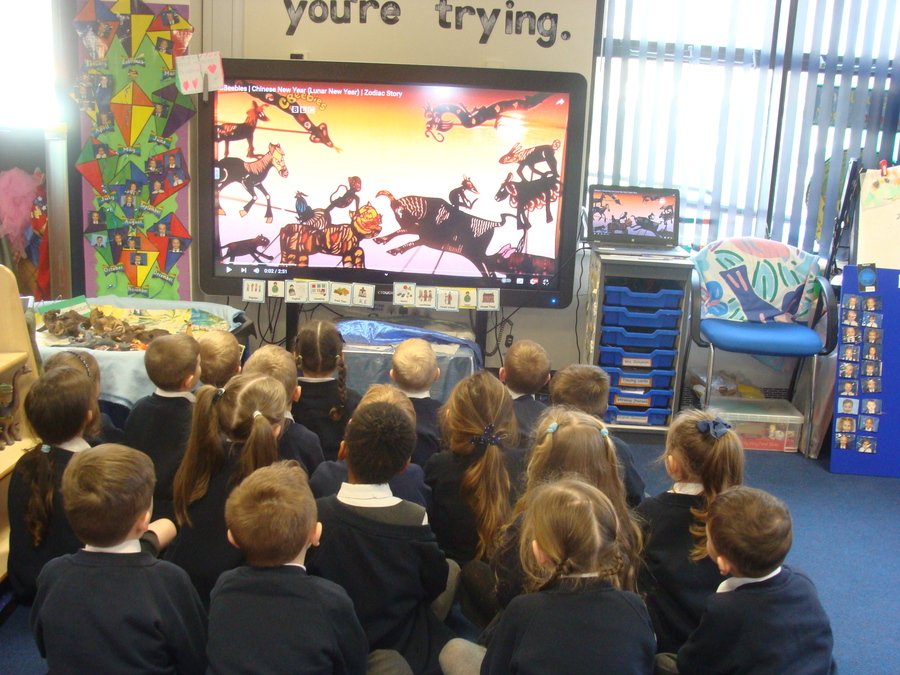 Reception class were asked to look after a mystery egg. They all wrote labels to place round the egg telling others not to touch and be quiet near the egg.
Our new topic is Dinosaurs. The children enjoy looking at fossils and pretending they are Palaeontologists.